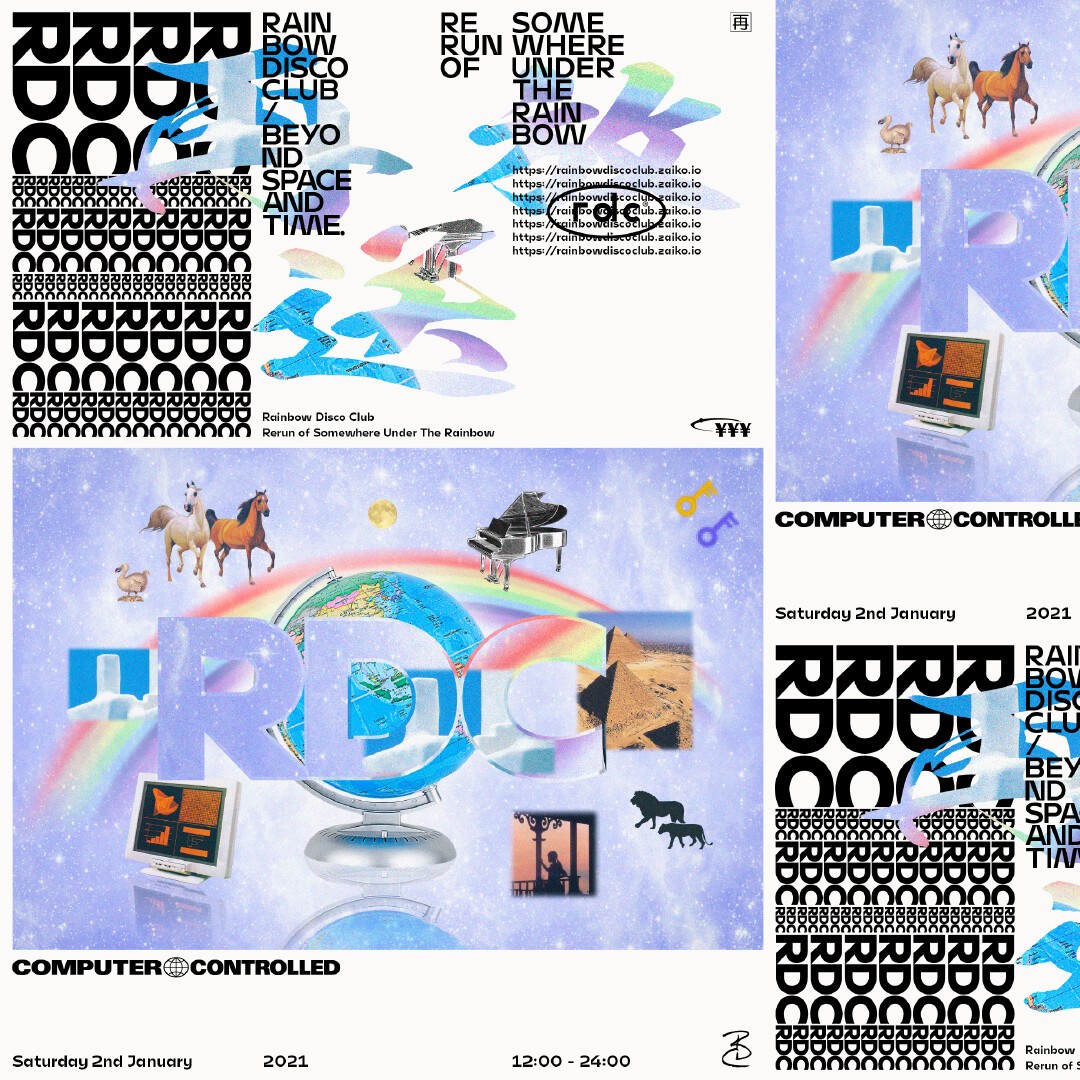 TIMETABLE (CET):
04:00- Sisi
04:40- Kikiorix
05:20- Yoshinori Hayashi
06:10- Kenji Takimi
07:05- Sauce81
07:50- Soichi Terada
08:35- Wata Igarashi
09:35- DJ Nobu
10:50- machìna
11:55- Licaxxx
14:00- CYK

TIMETABLE (EST):
Jan.1st
22:00- Sisi
22:40- Kikiorix
23:20- Yoshinori Hayashi
Jan. 2nd
00:10- Kenji Takimi
01:05- Sauce81
01:50- Soichi Terada
02:35- Wata Igarashi
03:35- DJ Nobu
04:50- machìna
05:55- Licaxxx
08:00- CYK

TIMETABLE (JST):
12:00- SISI
12:40- KIKIORIX
13:20- YOSHINORI HAYASHI
14:10- KENJI TAKIMI
15:05- SAUCE81
15:50- SOICHI TERADA
16:35- WATA IGARASHI
17:35- DJ NOBU
18:50- machìna
19:55- LICAXXX
22:00- CYK

* Electronic tickets can be purchased until 23:59 on the 2nd January.
* The delivery URL can be viewed only with the purchased ZAIKO account.
* Even if you share the URL or post to SNS, you can only view it on your ZAIKO account.
* If you watch it from the middle, it will be live streaming from that point, and you can not rewind and play it during live streaming.

━━━━━━━━━━━━━━
Outline
━━━━━━━━━━━━━━
Title:
RAINBOW DISCO CLUB
Rerun of "somewhere under the rainbow!"

Date & Time:
January 2nd the Saturday 12:00-24:00 JST

Lineup:
DJ Nobu
Soichi Terada
Wata Igarashi
Kenji Takimi
Yoshinori Hayashi
sauce81
Licaxxx
CYK
machìna
Sisi
Kikiorix

Price:
Free

Filming and Effect:
REALROCKDESIGN

━━━━━━━━━━━━━━
RAINBOW DISCO CLUB
Statement from the organizer
━━━━━━━━━━━━━━

There are only a few days left in the turbulent year of 2020.

We assume that many of you are exhausted in various ways due to the global pandemic.

As you know, Rainbow Disco Club were forced to cancel the festival in Izu and parties around the world, which put us in very difficult condition both mentally and financially.
However, even in such a situation, we could become aware of important things that we unconsciously ignored before. Having time to think about the pain and suffering of people that we rarely think about before. We could feel great happiness in small changes in daily life and little care of families and friends.

RDC 2020 was held online. That day, we attended the party in different ways, far away, but we felt connected with the wonderful performances of the artists. We vividly remember the exchanges and posts on social media.

All of you made the dance floor virtually through posting comments and pictures. How can we ever say thank you enough for the loves you shared.

We decided to rebroadcast RDC 2020 "somewhere under the rainbow" with free of charge from 12:00 (JST, GMT-9) on January 2nd in 2021, with the cooperation of ZAIKO, for the new year to come.
Why did we choose the New Year? Because we wanted to see you all again with a new feeling of 2021. It would be great if we could spend time together with #rainbowdicoclub during the New Year.

There are still cold and uneasy days to come, but please be extra careful and stay healthy.

We very much look forward to seeing you all again on the dance floor in 2021.
share
Pop-out