We will have scheduled maintenance on August 15th from 3:00 - 6:00 am. We apologize for the inconvenience.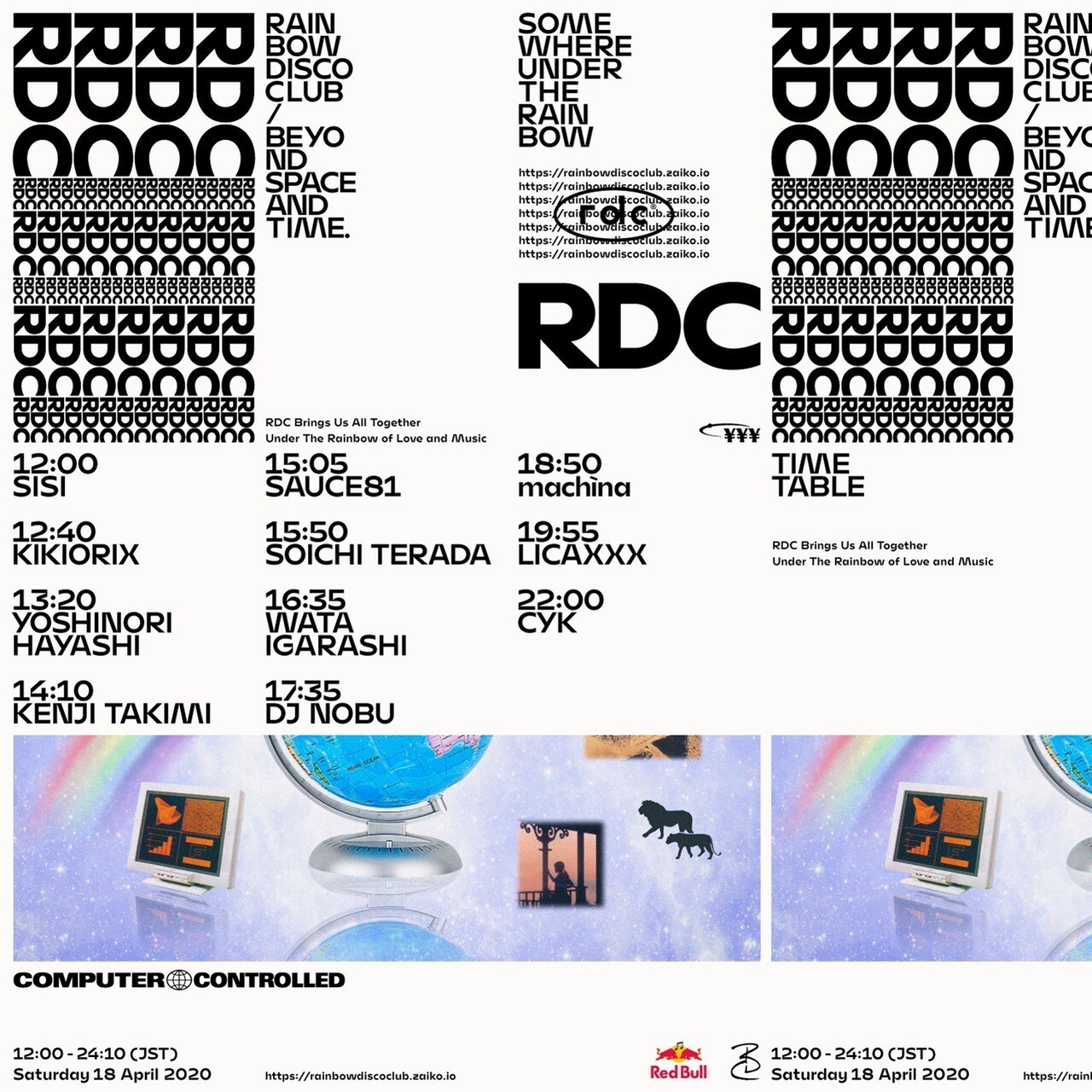 TIMETABLE (CET):
05:00- SISI
05:40- KIKIORIX
06:20- YOSHINORI HAYASHI
07:10- KENJI TAKIMI
08:05- SAUCE81
08:50- SOICHI TERADA
09:35- WATA IGARASHI
10:35- DJ NOBU
11:50- machìna
12:55- LICAXXX
15:00- CYK

* Electronic tickets can be purchased until 23:59 on the 24th April.
* The delivery URL can be viewed only with the purchased ZAIKO account.
* Even if you share the URL or post to SNS, you can only view it on your ZAIKO account.
* If you watch it from the middle, it will be live streaming from that point, and you can not rewind and play it during live streaming.
* After the distribution ends, ticket buyers will be able to view the archive until 23:59 on the 25th April.

━━━━━━━━━━━━━━
Outline
━━━━━━━━━━━━━━
Title:
RAINBOW DISCO CLUB "somewhere under the rainbow!"

Date & Time:
April 18th the Saturday 12:00-24:00 JST
It will be archived until 23:59 on April 25th.

Lineup:
DJ Nobu
Soichi Terada
Wata Igarashi
Kenji Takimi
Yoshinori Hayashi
sauce81
Licaxxx
CYK
machìna
Sisi
Kikiorix

Price:
Early-bird (1,000 JPY) *Until 11:59pm on March 31st, Tuesday JST
Regular (2,000 JPY) *After 00:00am on April 1st, Wednesday JST

Filming and Effect:
REALROCKDESIGN

━━━━━━━━━━━━━━
RAINBOW DISCO CLUB
Statement from the organizer
━━━━━━━━━━━━━━
We have been receiving incredible amount of messages and support from all over the world after the RAINBOW DISCO CLUB 2020 cancellation announcement and are truly grateful for the support.

All of us are facing difficulties everyday now because of the effect of novel Coronavirus. We had been busy trying to set up a crowdfunding and/or an alternative event until a few days ago but the situation surrounding this Coronavirus is changing every hour.

Many clubs in Europe and America are forced to shut and events to be cancelled, and also many borders are starting to be closed and all these artists and promoters are suffering from the damage, losing their work opportunities just like us. At the same time, all the dance music fans are also losing their places.

But, we must unite and fight against the unknown virus. Now, it is important to keep distance, avoid the crowd and prevent the virus to spread. We must limit our social activities and act with your loved ones and friends carefully.

We must keep smiling. This is what we have learned in the last 11 years from you.

Hereby we would like to announce that we made a decision to throw a 12 hour long paid-streaming party on April 18th the Saturday with the cooperation of many. This will be the very first attempt for us but we will do our best as much as to the actual festival in Higashi-Izu.

We hope this will be the special day for you during this long isolation time at home. Many fun merchandise items to enjoy the party at home are coming their way so please look forward to them. Early-bird tickets are also ready in the hope that you will be counting the days with excitement and get ready.

We even considered to make it free and available for as many people as possible but decided to face the real financial situation and make it a paid-streaming. We appreciate your understanding and cooperation in advance.

We cannot gather at the same place but we take this project as a campfire. We surround the music together, dance, talk, eat, smile well, love a lot and let's get warm.
share
Pop-out